Lol, I'm sorry, yet again, for taking so long to push out new content. But I managed to get something out by my birthday deadline, so… yay! I've been dealing with transitions and drama llamas, left and right. One of those drama llamas will be put out to pasture in the near future. Part of the reason I haven't been updating is that I have two roommates who have both desired my attention, and I don't like partaking in my hobbies while they're around. It's ME time, afterall. oAo Unfortunately, I also don't like to clean when they're around, so when everybody finally disappears, I'm usually scrubbing down every surface of the house. D8 That's why things have been so slow and wonky around here. But one roommate will be leaving, thankfully. Her conduct around here hasn't impressed me and I don't think she was quite ready to leave the parental nest. Actually, she hasn't even told me she's moving out. Her stuff just keeps slowly evaporating from the house, so I'm just assuming. :P Either way, once that's done, things should slowly return to normal.
NOW FOR THE LONG AWAITED GOODNESS… WHICH ISN'T MUCH CONSIDERING THE ENORMOUS GAP BETWEEN UPDATES. -sooooooooooob- I have one new userlookup… does that count for anything??? TAT It's Walking Dead themed and features the
Dixon brothers
.
There is also a plethora of new icons! -knuckle crack-
DMC: Devil May Cry
(2),
The Walking Dead
(2),
Seraph of the End
(3),
Marvel
(4),
Final Fantasy XV
(1),
Katekyo Hitman Reborn
(1),
Dragonball Z
(1), &
Final Fantasy XIII
(1).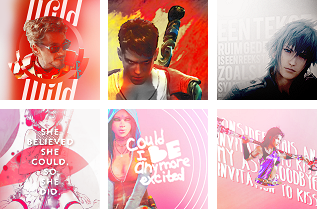 Last, but not least, there have been several changes to the
Adoption Center
. We've had a few pets adopted out recently, but even more added to our adoptee list. They include Alluene the Camo Peophin, TheEraofDarkness the Darigan Kyrii, TheEraofLight the Gold Eyrie, Isanami the Rainbow Usul, and Munyeca the Glowing Chia. Adoptions are a first come, first serve basis so if you see something you like, speak up! And thank you once again, Lydia, for donating some of your own pets to us!
And it's well overdue, but please re-welcome Towai's newest returning affiliate
Otaku Junk
! :P
Here's to another speedy update. 83

Listening to: "California Dreamin'" – Sia & "I'm So Sorry" – Imagine Dragons